Winning a golf championship is a great feeling, but what if you were named the winner of an event that you didn't participate in?
Well, that seems to be the case for President Donald Trump as he was recently named a co-champion of the Trump International's Club Championship in 2018. The odd part about his 2018 championship title that Trump was a little busy running the country at the time of the tournament and didn't officially compete in the event.
If that sounds odd brace yourself because the story of how Trump claimed a share of this championship is a bit crazy.
Golf.com's Michael Bamberger was the one who investigated this odd championship win and according to his sources, a man named Ted Virtue was the real winner of the event when it was played. Virtue, a 58-year old CEO, had won a series of matches in traditional bracket format to take the club championship title. He was later approached by Trump following his win, where he was told the only reason he won was that Trump himself was unable to compete.
Donald then challenged Virtue to play nine holes to determine the "real champion." Seeing as how turning down the club's owner (and President of the United States) would clearly be an ill-advised decision, Virtue agreed to the match.
There were no rules officials on hand, but the two agreed that Trump won the match play contest.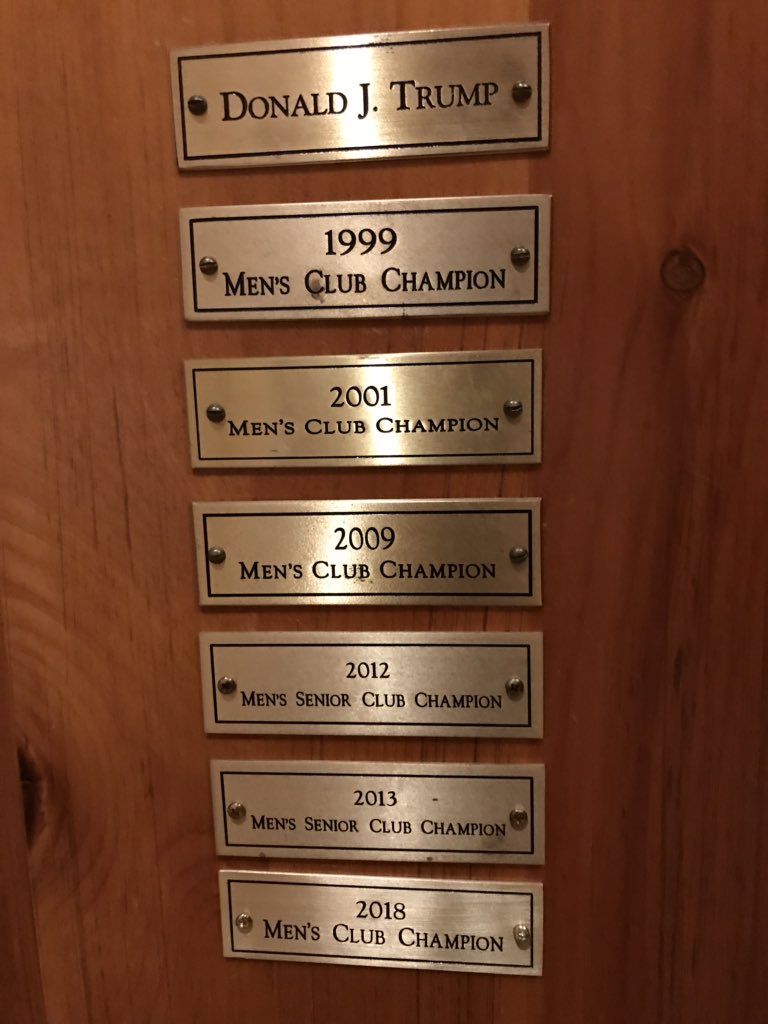 And if you're looking at this from a broad perspective, Trump may honestly be right in his assessment. He's allegedly a 2.8 handicap, pretty strong for an amateur golfer, and has claimed his club championship quite a few times between 1999 and 2013. So at the very least it seems that Trump would've provided some stiff competition for Virtue.
As for the nine holes that the two played to determine the true club champion, Bamberger's sources say that Trump won the battle but ultimately decided not to take the full championship for himself. Instead, he decreed that it would be fair to split the title between himself and Virtue. And that's why a plaque now hangs giving Trump a co-championship for last year.
You can argue about whether this is fair or not but it's certainly entertaining. Imagine if that happened on the PGA TOUR where Tiger Woods missed The Masters and then challenged the champion to nine holes at Augusta to claim the Green Jacket!
It's certainly crazy and hopefully, Trump will find time to compete next year so he doesn't have to challenge the competition champion for the trophy once again.
---