This is some serious Mr. Miyagi stuff going on…
Ten days, roughly ten hours, and we have yet to hold a golf club.
I'll admit, around day six or seven, I started to become like Daniel-son. Enough with this wax on, wax off, paint the fence nonsense!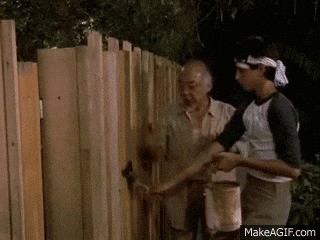 But just as Miyagi revealed to Daniel what he was actually learning, so too does Mr. Hepler.
Day eight is basically a classroom day. It's film study. No stretching or movement exercises.
It's just Bryan finally explaining what he is actually teaching me: the basic movements of Nicklaus, Hogan, Snead, Faldo, and, yes, Tiger Woods. Oh, and also the basic movements of Nolan Ryan, Larry Bird, Lionel Messi, and Roger Federer.
Tathata Golf is not teaching you how to swing like Tiger Woods. What it is teaching you is the fundamental movements of creating strength and athleticism in a very simple and easily digestible way. Swinging a golf club with speed and striking a golf ball with force is simply the by-product of the training.
In terms of the golfers mentioned, Bryan breaks these movements down just as he taught them in days one through seven; from the ground up. Beginning with stance, alignment, and grip; then breaking down each movement of the swing and how it relates to creating strength.
But that's just one "episode." It's become very apparent that's what each one of these days really is. This is an episodic series in which each episode builds off the previous. And, as I mentioned in my Day One review, a ton of supplemental material.
Half-way through the first chapter, we are also introduced to a stretching regimen. It's a combination of yoga, traditional stretching, and some very golf-specific stretching. There is also a supplemental video that shows each stretch in an alternative way for those that may not have the greatest of flexibility.
There is a distinct pattern that develops throughout the chapter, which Bryan also touches on in episode eight. Both the body movements and stretching movements are introduced "softly" or step-by-step. Then walked through in the next episode as a routine and combined with a new set of movements. This then becomes the "new" routine. Before you know it, there is a full routine established both for the swing movements and stretching movements.
At the same time, there is a bit of classroom that comes along with each episode. Deeper discussions about the ideas and concepts spoken about while learning these different movements.
And then you're tested on all of it.
The whole chapter has just a "whisper" of the 10-20-70 model of learning. Meaning 10% classroom, 20% coaching or collaborative learning, and 70% hands-on experience.
Since we aren't going to hit any golf balls during this training, that means my 70% hands-on experience is going to be range work and on the course. And how have those results been thus far?
It's probably a bit too early to tell. I can say it certainly has not hurt my golf game.
The stretching has definitely helped and I've even been able to carry some of the mental exercises onto the range and course with me. There was some struggle with a few of the movements early on, but I think that was primarily due to old habits refusing to die. Like any change, it's never easy.
That being said, I'm still optimistic about the program and excited to see what Chapter Two has to offer. I've heard rumors that I'll actually get to hold a golf club! How exciting!
See you after Chapter Two!
---